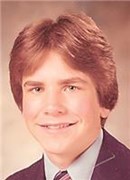 Eldon Dean Swartzentruber, age 52, of Sturgis, passed away Saturday, March 24, 2018, at his home.
He was born Sept. 11, 1965, in Yellville, Ark., a son of David William and Janet (Hesher) Swartzentruber.
Eldon resided in Sturgis since 1972, coming from Arkansas. He was a graduate of Sturgis High School with the class of 1983 and furthered his education at Michigan State University in East Lansing, where he received a bachelor's degree.
He was currently employed by Midwest Tool & Cutlery Company in Sturgis, working with the company for several years.
Eldon had a true green thumb and loved growing plants of many varieties.
He is survived by his parents, David William and Janet Swartzentruber of Sturgis; a sister, Vickie Johnson of Burr Oak; two brothers, Lonnie Swartzentruber and Monte Swartzentruber, both of Sturgis; two nephews, Dusty Keim and Johnathan Swartzentruber; and many aunts, uncles and cousins.
The family will receive friends from noon to 2 p.m. Saturday at Hackman Chapel of Hackman Family Funeral Homes, 114 S. Nottawa St., Sturgis. Funeral services celebrating the life of Eldon Swartzentruber will be held at 2 p.m. Saturday at the funeral home. The Rev. James Pierson of First Baptist Church of Sturgis will officiate. A graveside committal will follow the service at Prairie River Cemetery in Centreville.
The family suggests those wishing to make a memorial donation in Eldon's memory consider First Baptist Church, 1050 E. Fawn River Road, Sturgis, MI 49091.
His obituary is also at www.hackmanfamilyfuneralhomes.com, where personal messages of support may be left for the family.