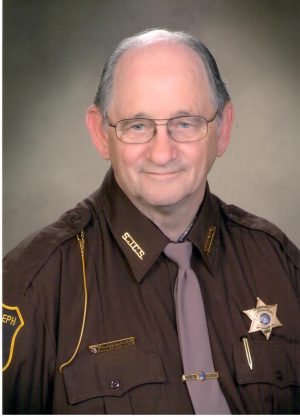 Jacob B. "Chaplain Jake" Schwartz, age 76, Sturgis, died Tuesday, March 27, 2018 at Saint Joseph Regional Medical Center in Mishawaka. He was born February 1, 1942 in Berne, Indiana, a son of Simon and Mary (Yoder) Schwartz. Jake attended school in Wasepi. On December 22, 1963 he married Martha Borkholder at Locust Grove Mennonite Church.  She was the love of his life!
Jake retired from Burr Oak Tool in 2006 after 32 years of service. He also owned J & M Hardwood Furniture.
Jake began the St. Joseph County Jail Chaplaincy program over 35 years ago and served as chaplain until his death. He received the Liberty Bell Award from the St Joseph County Bar Association in 2003. He was a member of Locust Grove Mennonite Church, enjoyed blue grass music having played with the Wasepi Bluegrass Gospel Singers, and he enjoyed traveling with Martha around the country. He loved spending time with his family, and was very proud of his grandchildren. He loved and served Jesus Christ as his Lord and Savior, and shared his faith with "everyone".
Surviving are his wife Martha Schwartz, Sturgis, children son Doug (Kim) Schwartz, Burr Oak, daughter Theresa (Robert) Danberry, Sturgis, daughter Karen (Darren) Bowdish, Vicksburg, and son Steve (Candace) Schwartz, Mishawaka, grandchildren Justin and Dylan Schwartz, Amber (Wes) Dove, Alisha (Bennett) Ahrens, and Jordan, Nicole, and Brandi Bowdish, great grandchildren Jonah and Dane Dove, siblings Rose (Jim) Chapman, Nottawa, John (Mary) Schwartz, Nottawa, Marvin (Maryanna) Schwartz, Millersburg, IN, Mary Ellen (Eli) Helmuth, Middlebury, IN, and many nieces and nephews.
He was preceded in death by his parents, brother Peter Schwartz, and sister and brother in law Barb (Bob) Chapman.
Relatives and friends will be received Friday from 4 to 7 pm at Locust Grove Mennonite Church. A Celebration of Jake's Life will be held at 11 am Saturday at the church with Pastor Bill Beck officiating. Interment will be in Locust Grove Cemetery. In lieu of flowers, memorial contributions may be directed to the St. Joseph County Jail Chaplaincy Program. Online messages may left for the family at www.eleyfuneralhomes.com.