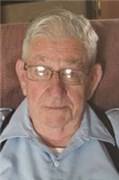 John Allan Weaver, age 86, of White Pigeon, died Saturday, March 17, 2018, at Thurston Woods Village in Sturgis, following a short illness.
He was born in Sturgis, the son of John A. and Elizabeth I. (Watson) Weaver Sr. He was a resident of White Pigeon since 2008, coming from Sturgis. He had also lived in Edwardsburg, Gastonia, NC and Colon.
He was a 1949 graduate of Colon High School and a member of White Pigeon United Methodist Church. He was a Korean War veteran earning the rank of private first class in the signal corps from 1950-1953. He was a member of the White Pigeon American Legion Post #138, Three Rivers Mt. Hermon Masonic Lodge #24, Three Rivers Order of the Eastern Star #210, and Sturgis Elks Lodge.
He enjoyed playing adult league baseball, bowling and bowling tournaments. Auto racing was his passion. As a stockcar driver, he raced with the likes of Gordon Johncock. He enjoyed golfing, spending time with the family camping and jamborees that lasted a week, something the whole family enjoyed. He was proud to have built his house on South Nottawa Road, basement to roof himself. He was also involved in construction work on many local school buildings. He was a loving man who enjoyed helping others.
He was employed by Harmon Glass for 20 years and retired as manager in 1997. He was employed at Paramount Furniture, as a bricklayer and mason, worked in trailer manufacturing, at Sturgis Tool and Die, and was manager of Glass Shop in Gastonia, NC, known for making stained glass.
On Feb. 21, 1954 he married Pat C. Burke. She preceded him in death on Jan. 9, 2008.
He is survived by his companion, Carol German of White Pigeon; children Cheryl (Denis) Howk, Judy (Danial) Beers of Sturgis; John (Roxane) Weaver of White Pigeon, Douglas (Sue) Weaver of Bristol, Ind.; brother Lawrence (Virginia) Weaver of Jonesborough, Tenn; grandchildren George (Ann) Owsley, Katie (Jeremy) Howk, Eric (Tammie) Thurston, Tina (Chris) Nicholas, Tammy (Keith) Edgerton, Nichole (Brian) Eckert, Teri Weaver, Christopher Weaver and James Weaver; 17 great-grandchildren; one great-great grandchild; several nieces, nephews and cousins. He was preceded in death by his parents; wife; sisters Marilyn Hart and Adelia (Dee) Reed; brother, Richard Weaver; and grandson Patrick Weaver.
Relatives and friends may call from 2 to 4 p.m. and 6 to 8 p.m. Wednesday at Farrand Funeral Home in White Pigeon where services will be at 11 a.m. Thursday with Rev. Tiffany Newsom, pastor of the White Pigeon United Methodist Church, and the Rev. Scott Manning officiating. Interment will be in Oak Lawn Cemetery in Sturgis with full military rites.
Memorial donations may be directed to the White Pigeon United Methodist Church or the Ronald McDonald House.