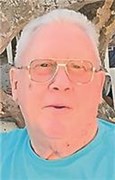 Larry Patterson, age 79, of Sturgis, went to be with his Savior on Saturday afternoon, March 3, 2018, at Blake Hospital in Bradenton, Fla.
He was born Jan.20, 1939, in Tecumseh, a son of the late Charles A. and Phyllis M. (Edwards) Patterson.
Larry graduated from Britton-Macon High School and from Adrian College. He received his master's degree from Western Michigan University.
In 1961, he married Julie Reeg at Trinity Lutheran Church in Sturgis.
Larry was a member of Trinity Lutheran Church, Alpha Tau Omega Fraternity and Theta Alpha Phi (National Honorary Dramatic Society) and past member of Sturges Young Auditorium Board of Directors and Sturgis Civic Players.
Larry retired from Sturgis Public Schools following 25 years of dedicated teaching. Following his retirement, he worked several years at Hackman Family Funeral Homes in Sturgis.
Larry was a devoted husband, father and Papa and friend. He will be remembered for his devotion to family and friends and his precious legacy, exemplary strength and true unconditional love for his family and friends.
Larry started many traditions for his family to carry on in his absence. Larry's love continues on in the people whose lives he touched most: his wife, Julie; his daughters, Kelli (Mark) McCready of Jenison and Amy (David) Morris of Hudsonville; five wonderful grandchildren, Keegan, Brittany and Nicholas McCready and Benjamin and Grace Morris; a sister-in-law, Char Patterson of Adrian; and many nieces, nephews and cousins with whom he was very close; and his many friends from Manapoga Park Campground and Sunset Inn of Florida.
He was preceded in death by his parents; grandparents; and a brother, Jack Patterson.
The family will receive friends from 2-4 p.m. and 6-8 p.m. Friday at Hackman Chapel of Hackman Family Funeral Homes of Sturgis. Funeral services celebrating and honoring the life of Larry Patterson will be held at 11 a.m. Saturday at the funeral home. Mr. Larry Wallman, Pastor Robert Keim, Mr. Dave Watson and the Rev. Calvin Kolzow will take part in the celebration. A graveside committal will follow the service at Oak Lawn Cemetery in Sturgis.
In lieu of flowers, Larry wishes were memorial donations be directed to Juvenile Diabetes Research Foundation, 26 Broadway 14th Floor, New York, NY 10004; or Holy Cross Lutheran Church Mobile Food Truck Program, 1481 Baldwin, Jenison, MI 49428.
His obituary is also at www.hackmanfamilyfuneralhomes.com, where personal messages of support may be left for the family.