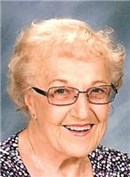 Laura Harrington, age 96, of Sturgis, Michigan died Thursday morning, March 22, 2018, at Thurston Woods Village in Sturgis.
Laura grew up during the Great Depression, living in Detroit with her three sisters and their Polish immigrant parents. She left school early, working as a waitress and in various factories. It was in one such factory that she met and then married Louis Harrington.
When their two daughters, Linda and Marcia, were in high school, Laura worked part-time sewing custom draperies. Widowed at 46, she began full-time work at a Ford factory and worked for Ford until her retirement.
Always an independent person, Laura lived in her home in Dearborn Heights until her 2014 move to Sturgis.
Laura is survived by her daughters, Linda Harrington and Marcia Harrington; a grandson, Lee Hainline; and several nieces and nephews.
The family will receive friends from 2-8 p.m. Tuesday at the Hackman Chapel of Hackman Family Funeral Homes, 114 S. Nottawa St., Sturgis. Funeral services celebrating the life of Laura Harrington will be held at 1 p.m. Wednesday at First United Methodist Church in Sturgis. The Rev. Jeanne Garza will officiate. A graveside committal will take place at 1 p.m. Thursday at Oakland Hills Memorial Gardens in Novi.
The family suggests those wishing to make a memorial donation in Mrs. Harrington's memory consider Animal Rescue Fund, P.O. Box 593, Centreville, MI 49032.
Her obituary is also at www.hackmanfamilyfuneralhomes.com, where personal messages of support may be left for the family.