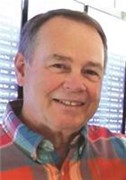 William Michael "Mike" Fittro, age 74, of Marshall, was stricken at home and passed away Friday, March 2, 2018, at Borgess Medical Center in Kalamazoo, surrounded by his loving family.
He was born June 2, 1943, in Fostoria, Ohio, a son of Daniel M. and Carolyn L. (Sanders) Fittro. He graduated from Olivet High School (1961), Olivet College (1968) and received a master's degree from Michigan State University (1978). He interrupted his college education to be a Peace Corps volunteer from 1963 to 1965 in Guinea, French West Africa, working in agricultural development. He was a football player at Olivet High School and Olivet College and his enthusiasm for supporting the Eagles and Comets continued well after his school days were over. He regularly attended football games at both schools and the homecoming activities at Olivet College. He was a member of Kappa Sigma Alpha Fraternity and recently had joined the alumni board.
Mike started his career as an elementary teacher in Stockbridge. He went on to be a teacher of emotionally impaired at Starr Commonwealth in Albion and various school districts, including Sturgis Public Schools. He was vice president/general manager of Litho Printers in Sturgis for 10 years. After retiring from teaching, he worked at several sales jobs in the general area. While living in Sturgis, he was a member of the Exchange Club for seven years, and club president for one year.
On Sept. 1, 2001, he married Jo Anne Hilden Banister at Chicago LDS Temple. He moved to Marshall when they married, and he was able to resume his close relationship with Olivet. He is survived by his beloved wife and eternal best friend, Jo; daughter Maria (Brent) Lawniczak of Wetumpka, Ala.; son M. Christian (Rebecca) Fittro of Chapel Hill, N.C.; son Joshua Fittro of Sturgis; son Samuel (Holly) Fittro of Sturgis; daughter Meghan Fittro of Sturgis; and daughter Hannah (Matthew) Lehman of Sturgis. When he married Jo, he happily expanded his family and considered her children to be his own. He also is survived by stepdaughter Sarah Sill of Marshall; stepdaughter Jessica (Ronald Jr.) Brooks of Germany; stepson Eli Banister of Gilbert, Ariz.; stepdaughter Vanessa (Ali Haralji) of Ypsilanti; stepdaughter Avery Banister of Belleville; and stepdaughter Mackenzie (Matthew) Bayles of Provo, Utah. He also is survived by brothers Daniel (Carmen) Fittro and Gary (Melody Brasswell) Fittro and sisters Cynthia Fittro, Marcia Fittro and Melissa (Matthew) Marino. He also leaves behind 11 grandchildren; 10 stepgrandchildren; one great-grandchild; as well as numerous nieces, nephews and cousins.
He was preceded in death by his parents; and his brother, Earnest Dewey (Joyce) Fittro. His marriages to Linda Prevost (deceased) and Caryl "Suzy" Lips ended in divorce.
Among his greatest loves and hobbies were his thirst for knowledge and his musical career. He was curious about everything and loved learning. Mike was often found reading historical nonfiction and political thrillers when he wasn't serving his family, church and community. His musical prowess began at a young age and continued until his death. He knew a variety of instruments, but primarily played tuba, guitar and bass guitar. He played in several bands throughout his life with his family and friends. He organized the successful folk rock band The Merrie Motor Company. They performed all around the eastern United States with well-known groups. Their hit song on the Decca label, "Walkin' Down This Road," was broadcast around the nation over radio and television in 1969. He was still playing in bands at the time of his death. He wrote original music, skits and acted in community theater. His family band performed at Sturges-Young Auditorium in Sturgis many times. Mike loved planes, trains and automobiles. He often attended air shows. He had a natural artistic ability that helped him to work creatively. Camping brought him great joy, and he spent many years working with Boy Scouts of America. Mike and Jo loved Lake Michigan, Saugatuck and the Upper Peninsula. He was comfortable with everyone and he never knew a stranger. He loved to help people.
Throughout his life, Mike was politically active. He campaigned for politicians he believed in and did a lot of work behind the scenes. He was an avid believer in the Constitution and the government our Founding Fathers wanted for this country. He strongly supported our military. He was a proud member of the NRA. Mike was an organizer, worker and doer. He was a man of action, no matter the trouble or the cost. He wanted to beautify things and make things better. He never did anything halfway.
Mike was a devoted husband, father and son. No other responsibility was greater to him than his family, both "old" and "new," and his duties as a dedicated member of The Church of Jesus Christ of Latter-day Saints, where he served in various positions and was a High Priest. Emergency preparedness was one of his top priorities, and for a time he helped run an emergency preparedness group for the Marshall community.
The family will receive friends from 4-7 p.m. Friday, March 16, at Kempf Family Funeral and Cremation Services, Marshall Chapel, 723 U.S. 27 North. A funeral service will be held at 1 p.m. Saturday, March 17, at Kempf Family Funeral and Cremation Services. Interment will follow at City of Olivet Cemetery. The family will gather with friends following the committal service at Kempf Family Funeral and Cremation Services reception hall.
In lieu of flowers, Mike's family requests that donations be made to the Marshall branch of The Church of Jesus Christ of Latter-day Saints, Olivet College or Hillsdale College. Friends may send condolences or share a memory at kempffuneralhome.com.