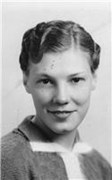 Neva Sue Hicks, age 77, of Sturgis, passed away early Saturday morning, March 10, 2018, at her home.
She was born May 5, 1940, in Bracken County, Ky., daughter of the late David and Garnett (Jackson) Bell.
Neva resided in Sturgis for several years returning from Tennessee four years ago.
On Aug. 25, 1962, she married Charles Hicks in Milford, Ky. He died March 29, 2002.
Neva had been employed as a certified nurse assistant for several years at area nursing homes including Thurston Woods Village in Sturgis. She had had also worked in tobacco farming and manufacturing companies and she was a dedicated homemaker.
She enjoyed crafting, jigsaw and word search puzzles, watching wrestling on television, music and singing karaoke. Neva had hobbies and interest but what she truly loved were times she was surrounded by her family.
She is survived by three daughters: Linda (Don Harker) Hicks of Sturgis; Donna (Brad) James of Sturgis and Melanie (Kent) Klaveness of Sarasota, Fla.; 12 grandchildren; 8 great-grandchildren; one sister: Bonnie (Bob) Eckert of New Richmond, Ohio; one brother: Jack (Ann) Bell of Ohio and many nieces and nephews.
She was preceded in death by her parents; husband and three brothers: Gerald Brown, Owen Bell and Melbourne Bell.
The family will receive friends from noon-2 p.m. Wednesday at the Rosenberg Chapel of Hackman Family Funeral Homes, 807 E. Chicago Rd., Sturgis, MI 49091, 269-651-3284 where funeral services celebrating the life of Neva Sue Hicks will begin at 2 p.m. Wednesday. A graveside committal will follow the service at the Burr Oak Cemetery in Burr Oak.
The family suggests those wishing to make a memorial donation in Mrs. Hicks' memory consider Heartland Hospice, 8075 Creekside Dr., #120, Portage, MI 49024.
The obituary is also at www.hackmanfamilyfuneralhomes.com where personal messages of support may be left for the family.