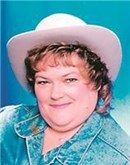 Patricia Lou Salisbury, age 70, of Three Rivers, and formerly of Sturgis, passed away peacefully in her home, surrounded by her loving family and caring hospice staff Tuesday morning, March 27, 2018.
She was born March 8, 1948, in Lansing, a daughter of the late Donald Walter and Vesta Lou (McCamis) Goodnoe.
Patricia's early life was lived in California. She came to Sturgis in 1976 and to Three Rivers in 2017.
On April 12, 1977, she married Keith "Skip" Salisbury Sr. Patricia had been employed by Community Action Agency of South Central Michigan Head Start in Three Rivers and Sturgis area for 17 years. She loved working with children.
She was an active and dedicated member of Potter's House Church of Sturgis. She loved Jesus and wanted to share her love of Him with others in the best way she knew how, singing old-time gospel songs. Patricia was a member of St. Joseph County Commission on Aging and the RAP program. She enjoyed playing cards, listening to music and singing karaoke. She also enjoyed crocheting, plastic canvas, playing computer games and watching Gameshow Network.
She is survived by her loving and dedicated husband of 43 years, Keith "Skip"; three sons, Robert (Kristina) Austin of Three Rivers, Keith (Jada) Salisbury Jr. of Centreville and Paul (Heather) Salisbury of White Pigeon; six grandchildren, Eva (Leon) Hargett, Paten (Brice) Burch and Taylor Miarka (Alejandro Campos), Robert Austin Jr., Jasmine Bailey and Gabrielle Salisbury; three sisters, Jackie Collier, Linda Keltner and Betsy Garcia; three brothers, Chuck Kelly, Ron Goodnoe and James Goodnoe; and many nieces and nephews.
She was preceded in death by her parents; a sister, Blanche Elliott; a brother, David P. Kelly; a sister-in-law, Norma Goodnoe; and a daughter-in-law, Jessie Austin. The family would like to thank Great Lakes Caring Hospice for the care and love they gave to Patricia.
In lieu of flowers, Patricia's request was for everyone to bring a stuffed animal in remembrance of her, as she would like each grandchild, niece and nephew to keep one in her memory and then would like the remainder to be donated to the children's cancer center.
The family will receive friends from 6 to 8 p.m. Monday and 12:45 to 2:45 p.m. Tuesday at Rosenberg Chapel of Hackman Family Funeral Homes, 807 E. Chicago Road, Sturgis. Funeral services celebrating the life of Patricia Lou Salisbury will be held at 3 p.m. Tuesday at the funeral home, with a dinner following at COA Enrichment Center, 306 N. Franks Ave., Sturgis. Pastor Brian Bowen of Potter's House Church of Sturgis will officiate. In accordance with her wishes, cremation will follow the services.
Memorial donations to the family would be appreciated, c/o Paul Salisbury, 68159 Edgewater Beach Road, White Pigeon, MI 49099.
Her obituary is also at www.hackmanfamilyfuneralhomes.com, where personal messages of support may be left for the family.