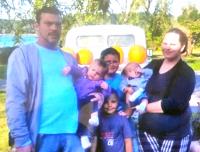 Richard Wesley Rose passed away on Wednesday, February 28, 2018 leaving behind his mother, Donna Yost, and his step-father Kevin Yost, his fiance, Terri, and his beloved children Markus, Zachary, Bradley and Caidence; three brothers Jamie (Julie), Bruce (Jesie), Larry and sister Donna Kaye; all his nieces and nephews, Macy, Emille, Issak, Ryan, Britni, Brandon, Brock, Jace, Tony, Alisya, Daisy, Tyler. He will be loved and missed by all.
In accordance with the families' wishes, cremation has taken place and there will be no scheduled services at this time.
Arrangements by Hohner Funeral Home.