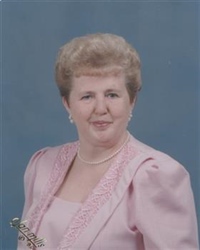 Sally Jean Russey, age 86, died on Wednesday, March 7, 2018.  She was born November 11th, 1931 in Chicago, a daughter of Everett James Gale and Shirley (Dolph) Suranberg. She graduated from Three Rivers High School in 1949. On February 25th, 1950 she married Richard William (bill) Russey. He preceded her in death on December 1st, 1989. She was employed for thirty-four years by General Telephone CO. of Michigan in Three Rivers. She was a member of St. Johns Lutheran Church. She was a volunteer auxiliary member at Three Rivers Area Hospital.
Surviving are her daughters, Linda Large (Garth) of Three Rivers and Lori Johnson (Butch) of Mottville. Four grandchildren: Julie Johnson (Scott), Jeffrey Wilkins (Angie), Ryan Johnson (Sarah), and Sarah Browning (Larry). Great Grandchildren: Damon Speakman (Nicole), Whitney, Tiffany, J.J., and Brandon Wilkins, and Noah and Ariana Johnson. Michael Gale of Walla Walla, WA a brother and Genine Dickinson of Homedale, ID a sister. She was preceded in death by her parents and husband, Richard William Russey.
Relatives and friends will be received from 5:00 to 7:00 p.m. on Friday, March 9, 2018 at Hohner Funeral Home. A Graveside service will be held the following day, Saturday, March 10, 2018 at 10:00 a.m. at Riverside Cemetery.
Memorial donations may be directed to the St. Joseph County Cancer Society or Heart Funds. Envelopes are available at the funeral home.