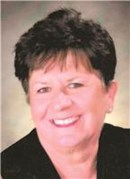 Trudy Marie Harnell, age 76, of Klinger Lake, passed away Saturday, March 10, 2018, at her home.
She was born Feb. 24, 1942, in Chicago, a daughter of the late Edward R. and Catherine Pacak.
Trudy was raised in Duluth, Minn., and married her high school sweetheart, Robert Harnell, on Oct. 1, 1960, in Omaha, Neb.
She received a BSN from Alverno College in Milwaukee and worked and retired from Loyola University Medical Center in Chicago after 30 years as a nursing administrator.
She and Bob moved to Klinger Lake and built their dream home on the lake. They became active in the community, attending Holy Angels Catholic Church, volunteering at Sturgis Hospital and in the snack shop at Three Rivers Hospital.
Trudy enjoyed golfing, playing bridge and their pontoon boat. Her fondest memories were of teaching the grandchildren to swim and waterski. She loved the water and all the activities around it. Trudy had many interests in life and always said, "There are never enough hours in the day to do everything she wanted to do." She made friends easily, had a great sense of humor, and felt all her friends were very fun-loving people. She also was extremely proud of her two beautiful daughters.
Surviving are her husband, Robert Harnell of Klinger Lake; two daughters, Michelle Harnell and Yvette Lenzi; four grandchildren, Anthony and Michael Lenzi and Mimi and Skylar Harnell, who all live in the western suburbs of Chicago.
According to her wishes, cremation has taken place. A Memorial Mass celebrating the life of Trudy Marie Harnell will be held at 10 a.m. Thursday, March 22, 2018, at Our Lady of Mount Carmel Catholic Church, 8404 Cass Ave., Darien, Ill.
Her obituary is also at www.hackmanfamilyfuneralhomes.com, where personal messages of support may be left for the family.