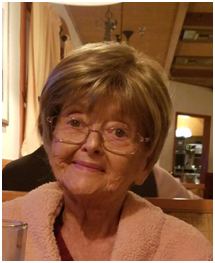 Anna L. (Swartz) Chiddister, age 79, of Marcellus, passed away peacefully from this life the morning of March 9, 2018.  She was surrounded and supported by loving family, friends, and caregivers during the last days of her life.
Anna was born on July 26, 1938 in Cook County, IL the daughter of Ernest and Mary (Tomiser) Gehrig.  She was the youngest of 3 children.  She grew up in Three Rivers, where she met and married the late Carroll D. Swartz on September 23, 1960.  They resided in Marcellus until his death in 2000.  While Carroll and Anna were married they enjoyed many years of polka dancing, you could always find them on any given Saturday night dancing somewhere.  Anna also enjoyed and had a great talent for cake decorating.  For many years she created beautiful cakes for friends and family for all types of occasions. Together Carroll and Anna had 2 children; Gail (Denny) Reames and Terry (Wendy) Swartz; 3 grandchildren, and 3 great-grandchildren.
In February 2006, Anna married John Chiddister and was joined with John's children; Cheryl (Floyd) Groner, Glenda Chiddister, Karen (Denny) Brewer, Nancy (Gregg) Griffith, Kristen (Dennis) Conley, Paul (Pandy) Chiddister and Kay (Rick) Ringle; 18 step-grandchildren and 38 step-great-grandchildren.  While married to John, Anna and John enjoyed 12 years of spending time together and traveling around the United States in their camper.
Anna is survived by her sister Helen.  She was preceded in death by her first husband Carroll, late husband John, and her brother Frank.
The family would like to invite friends and family to a graveside service at the Marcellus Cemetery on Saturday, April 21, 2018 at 1 PM.  Pastor John Hill will be officiating.  Online condolences may be left at www.materralstonfuneralhome. com.