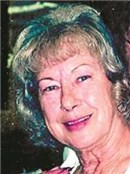 V. Roberta "Bobbie" Krontz, age 81, of Sturgis, passed away Wednesday, April 25, 2018, at Golden Living Center in Elkhart.
She was born Feb. 6, 1937, in LaGrange, a daughter of the late Eugene and Helen (Deets) Roberts.
Bobbie was a lifelong Sturgis resident.
On May 8, 1976, she married Gordon Dale Krontz at First Presbyterian Church in Sturgis.
Bobbie retired from Americraft Carton Company in Sturgis following many years of dedicated employment. She also had worked at Kirsch Company in Sturgis for several years.
She was a member of the St. Joseph County Conservation & Sportsman Club. She enjoyed hunting, cooking, canning, gardening, snowmobiling and had a true love for animals. Many will remember Bobbie for being the strong-willed woman she was.
She is survived by a daughter, Diane Robinson of Bristol, Ind.; three grandchildren, Heidi Robinson of Elkhart, Russell Kinder of Sturgis and Sarah (Brock) Smith of White Pigeon; three stepdaughters, Marian (Mike) Wells of Colon, Dena (Dan) Trowbridge of Kendallville, Ind., and Tena (Mike) Hill of Plymouth, Ind.; nine step-grandchildren; several great-grandchildren; a great-great-grandchild; a sister, Carolyn Beardsley of Sturgis; three brothers, Danny (Connie) Roberts of Sturgis, Tom (Judy) Roberts of Sturgis and Richard (Susan) Roberts of Florida; and many nieces and nephews.
She was preceded in death by her parents; her husband; and a son, Michael Kinder.
The family will receive friends from 11 a.m. to 1 p.m. Monday at Hackman Chapel of Hackman Family Funeral Homes, 114 S. Nottawa St., Sturgis. Funeral services celebrating the life of Bobbie Krontz will begin at 1 p.m. Monday at the funeral home. A graveside committal will follow the service at Oak Lawn Cemetery in Sturgis.
The family suggests those wishing to make a memorial donation in Mrs. Krontz's memory consider Alzheimer's Association , 350 E. Michigan Ave., Suite 20, Kalamazoo, MI 49007; or St. Joseph County Animal Control, 652 E. Main St., Centreville, MI 49032.
Her obituary is also at www.hackmanfamilyfuneralhomes.com, where personal messages of support may be left for the family.