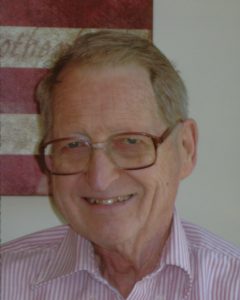 Conrad James Johnson, age 87, of Three Rivers passed away peacefully on April 3rd, 2018 in Battle Creek. He was born in Chicago on February 6th, 1931 the son of Eddie and Catherine (Schlenger) Johnson.
He proudly served our country as a Sargent in The United States Air Force. Conrad loved to lead by example and this was shown through his devotion to God and his love for his wife, the mother of his children. He devoted much of his free time to the church, if he wasn't leading a Sunday School Class he was leading the Boys Christian Service as the Brigade Leader. He will be remembered for the joy he got from making latch hook rugs and giving them away.
Conrad is preceded in his passing by his loving wife: Miriam (Cole); three brothers, three sisters, and one grandson.
He leaves to cherish his loving memory, sons: Ted (Roberta "Bobi") Johnson of Genoa, IL and Keith (Gloria) Johnson of Fitchburg, WI; daughter: Debra (David) Mader of Jones, MI; brother: John Johnson of Largo, FL; seven grandchildren and twelve great grandchildren.
The family will receive friends from 2:00 p.m. until the time of service at 3:00 p.m. at The Howardsville Gospel Chapel on Saturday, April 7th, 2018 with Pastor Sheldon Combs officiating.
Memorial donations may be directed to the Howardsville Christian School. Envelopes are available at The Howardsville Gospel Chapel. Online condolences may be shared at www.hohnerfh.com.