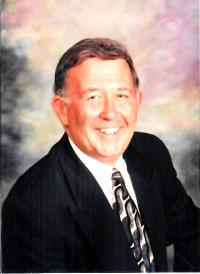 Daniel Ray Frew, age 81, passed away on Wednesday, April 18, 2018. Daniel was born on Aug. 8, 1937 to Lawson Hannah Frew and Elizabeth Marie Freshour in Sullivan, Ind.
He attended Sullivan High School and Indiana University where he received a doctorate in optometry. On Aug. 23, 1959, he married Leah Kay Lund and on Dec. 16, 1960 their son Mark Lawson Frew was born in Martinsville, Ind. The family moved to Sturgis, where Dan set up his Family Vision Care practice. He also began a second Vision Care practice in Three Rivers. Among Dan's achievements are his involvement with the Sturgis Arts Council, Sturges-Young Auditorium, Rotary International, and his many years of optometry service. His hobbies included travel, golf, theatre production, ancestry, and pottery.
He was preceded in death by his parents, wife Kay, and son Mark. He is survived by a loving husband Larry Hoekstra; sister, Verna (Richard) Crooks; brothers, Thomas (Chris) and Robert (Janet) Frew; daughters, Michelle Frew-Medley and Keren (Adam) Brinks; grandchildren, Marisa, Ian, Lena, Kayli, Collin, Catherine, Claire, and several nieces and nephews.
At his request, cremation has taken place. A Celebration of Life will take place at a later date. Gifts may be designated to the music programs of First Congregation Church and St. Luke's Episcopal Church both of Kalamazoo, Kairos Dwelling, or the charity of your choice.