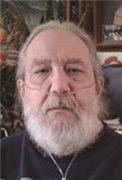 Senior Chaplain David Lee Ray, age 63, of Mendon, passed away Tuesday afternoon, April 10, 2018, at Bronson Methodist Hospital in Kalamazoo.
He was born Nov. 30, 1954, in Arizona, a son of the late Chester and Beulah (Gibson) Ray.
David had resided in Mendon for the past 41 years, coming from Sturgis. On Sept. 17, 1977, he married LaVonna Rodenberger in Leonidas.
David retired from Grumman Olson in Sturgis following 25 years of dedicated employment. Following his retirement, he worked for two years as manager of the Sears store in Sturgis and also worked at Walmart in Sturgis.
He was actively involved in the Fellowship Ministries in Temple, Texas. David enjoyed watching and playing golf, following local and world news and was an avid fan of football.
He is survived by his loving and dedicated wife of 40 years, LaVonna; two sisters, Billie Chesnail and Pennie Spence; a nephew; and a niece.
He was preceded in death by his parents; and a brother, Steve Ray.
The family will receive friends from 2 to 4 p.m. and 6 to 8 p.m. Friday at the Hackman Chapel of Hackman Family Funeral Homes, 114 S. Nottawa St., Sturgis. Funeral services celebrating the life of Senior Chaplain David Lee Ray will be held at 1 p.m. Saturday at the funeral home. The Rev. David Farrell will officiate. A graveside committal will follow the service at Leonidas Cemetery in Leonidas.
Memorial donations to the family would be appreciated, c/o LaVonna Ray, 27463 Butler Road, Mendon, MI 49072.
His obituary is also at www.hackmanfamilyfuneralhomes.com, where personal messages of support may be left for the family.