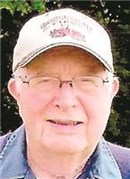 G. Richard "Dick" Himebaugh, age 95, of Burr Oak, passed away Tuesday, April 24, 2018, at Masonville Place in Coldwater.
He was born Dec. 21, 1922, in Branch County, a son of the late Gero A. and Leona (Fennell) Himebaugh.
Dick was a lifelong Branch County resident and a graduate of Burr Oak High School with the class of 1940. Following his graduation, he furthered his education at Michigan State University.
On Dec. 31, 1950, he married Dorothy M. Burnside at Burr Oak United Methodist Church. Dick and Dorothy were blessed with 64 years of marriage until her death June 2, 2015.
Dick was a lifelong farmer and an active member of his community, serving as a member of the Bronson school board in the 1970s and as a Branch County commissioner in the 1980s.
He was a member of Pleasant Hill Missionary Church and former member and elder of Sturgis Bible Chapel.
Dick is survived by three daughters, Georgia (Dale) Hines of Fort Wayne, Ind., Alice (Larry) Polston of Burr Oak and Helen (Dick) Butcher of Caledonia; a son, Fred (Julie) Himebaugh of Ypsilanti; eight grandchildren, Daniel (Lindsay) Hines, Paul Hines, Mary (Rob) Miedema, Richard (Rachel) Butcher, Laura Polston, Thomas Polston, Andrew Himebaugh and Alexandra Himebaugh; 10 great-grandchildren, Tessa, Lucia, Maggie, Sammy and Joel Miedema, Charlotte and Grant Hines, and Charlotte, Henry and Jack Butcher; a brother, Phil (Wendy) Himebaugh of Howell; and two sisters, Donna Good of Bronson and Nancy Riegle of Muncie, Ind.
He was preceded in death by his parents; his wife; and two brothers, John Himebaugh and Thomas Himebaugh.
The family will receive friends from 5-7 p.m. Friday and 10-11 a.m. Saturday at Pleasant Hill Missionary Church, 886 Pleasant Hill Road, Bronson. Funeral services celebrating the life of Dick Himebaugh will be held at 11 a.m. Saturday at the church. Pastor Larry Polston will officiate. A graveside committal will follow the service at Trayer Cemetery in rural Bronson.
The Hackman Chapel of Hackman Family Funeral Homes, 114 S. Nottawa St., Sturgis, is entrusted with the arrangements.
The family suggests those wishing to make a memorial donation in Mr. Himebaugh's memory consider Pleasant Hill Missionary Church.
His obituary is also at www.hackmanfamilyfuneralhomes.com, where personal messages of support may be left for the family.