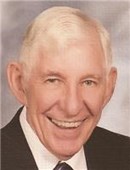 Forrest Phillip (Phil) Meek, age 87, passed lovingly into the arms of his Lord and Savior on Saturday, March 31, 2018, at his home in Peoria, Ariz. He was surrounded by family members at the time of his passing.
Forrest was born June 28, 1930, in Battle Creek, to Jack Wayne and Alma LaMoyne (Piatt) Meek. He graduated from Coldwater High School in 1948 and completed Argubright Business College in October 1950. On March 31, 1951, he married Elizabeth (Betty/Beth) Faye Williams of Colon. They were married 67 years to the day at his time of death.
Forrest enlisted in the National Guard in 1948 and later transferred to the Air Force. He became an officer in 1957. He served for several years in personnel and eventually was selected for assignment to the Pentagon. He was promoted to lieutenant colonel in February 1974 and retired from the Pentagon in August 1977. During his military service, he acquired a Bachelor of Science degree in economics and was awarded with several medals and service ribbons.
After retirement, Forrest purchased a printing franchise (International Minute Press) in Phoenix. He and Beth ran a prosperous business together for almost 20 years, which they sold in February 1997. Forrest was active in Exchange Club of Phoenix and Kiwanis Club. Forrest and Beth were longtime members of Arcadia Gospel Fellowship in Phoenix.
Forrest is survived by his wife of 67 years, Elizabeth; a son, Phillip (Tracy) Meek of Bellevue Iowa; two daughters Valerie (Mike) Pollock of Leonard, Texas, and Susan (Adam) Mehlhaff of Peoria Ariz.; 11 grandchildren; nine great-grandchildren; two brothers, George of Burr Oak and Clinton (Kay) of Sturgis; three sisters, Clova (Mel) Self of Marana, Ariz, Margaruette (Donald) Subaran of Fontana, Calif. and Kay (Lee) Moreno of Tucson, Ariz.; and numerous nieces and nephews.
He was preceded in death by his parents; a baby daughter, Sherilyn; and a brother, Jack.
Funeral services will be held Sunday April 8, 2018, at Schipper Funeral Home, 308 S. Blackstone Ave., Colon. Viewing is from noon-2 p.m., with the service immediately following.