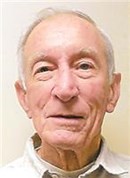 Eugene "Gene" Stone, age 88, of Mt. Pleasant and Constantine, passed away Friday, April 27, 2018 at McLaren Central Michigan.
Funeral Services for Gene will be held at Clark Family Funeral Chapel on Wednesday, May 2, 2018 at 1 p.m. with Benjamen Evers officiating. Interment will follow at Riverside Cemetery in Mt. Pleasant. A luncheon will be held in the Reflections Reception Center immediately following burial. The family will receive friends on Wednesday beginning at 11 a.m. until the time of the service. In lieu of flowers, memorial contributions may be made to the Alzheimer's Association. Envelopes will be available at the funeral chapel.
Gene was born on July 22, 1929, in Montcoal, WV, the son of John R. and Millie M. (Brown) Stone. He graduated from Shepherd High School with the class of 1948. Following graduation, Gene enrolled in the U.S. Army, serving from 1948-1952. He married Mary Anne Nickel in 1953. Gene worked for Ferro's Stamping Company in Mt. Pleasant, The Shepherd Argus, owned and operated The Fowler Post for 2 years, and the Edmore Times for 14 years. While operating the Edmore Times, Gene began the annual Potato Festival with the help of many others. He belonged to the Edmore Chamber of Commerce, and served as their President for a year. Gene and Mary moved to Constantine in 1979, and resided there for 36 years. He retired from the U.S. Postal Service as a rural mail carrier in 1992. He and Mary Anne spent many years traveling to Texas. Gene enjoyed golfing, bowling, playing cards and pool, and working outdoors. He was a member of the American Legion Post 223 in Constantine, VFW, and DAV.
Gene is survived by his wife Mary Anne Stone of Mt. Pleasant; son Michael (Cheryl) Stone of Lake Geneva, WI; daughter Sheila (John) Stears of Constantine; grandchildren David, Andrew, and Isaiah Stone of Lake Geneva, WI, Jacob Lintz, Amanda (Tyler) Bellows, and Brittany Stears all of Constantine; great-grandchildren Noah Stone, Ava Stone, and Harper Stone of WI, Masen Stears and Brycen Bellows both of Constantine; sisters Imogene Johnson of Shepherd, Patsy Marshall of Harrison, Betty Benzinger of Mt. Pleasant, Peggy (Bob) Neal of Mt. Pleasant; brother Pete (Laurie) Stone of Shepherd; and many nieces and nephews.
Gene was preceded in death by his parents.