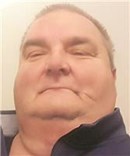 George L. Tyler, age 59, of Sturgis, passed away unexpectedly Sunday, April 15, 2018, at his home.
He was born Nov. 10, 1958, in Kalamazoo.
On Dec. 27, 1987, he married Grace Irene Salton in Parchment. She preceded him in death Oct. 24, 2012.
George moved to Burr Oak in 1987 and to Sturgis in 1997.
He was employed as a mechanic for Hertz Rental Car in Kalamazoo and self-employed as a delivery driver for Gateway Shopper's Guide in Sturgis.
He enjoyed camping at Grandview Bend in Howe, Ind., and having coffee at Great Lakes Coffee every day.
Surviving are a daughter, Theresa (Josh Beardsley) Reed of Sherwood, Ohio; three grandchildren, Dominic Reed, Ashyln Reed and Christopher Salton; a brother, Lloyd (Mary) Tyler of Burr Oak; sisters; friends Scott Reed and Mike (Sherry) Aiello; nieces and nephews; his cat, Edgar; and special friends and campers from Grandview Bend in Howe.
He was preceded in death by his parents; his wife, Grace; a daughter, Hester Holland; a brother, Butch Tyler; a nephew, Derek Howard; and a great-nephew, Tyler Wirtz.
The family ask that you dress as you were meeting George for coffee, no suit and tie, casual dress, as they will receive friends and relatives from 3 to 5 p.m. Friday, at the Rosenberg Chapel of Hackman Family Funeral Homes, 807 E. Chicago Road, Sturgis.
Services celebrating the life of George L. Tyler will be held at 5 p.m. Friday, immediately following visitation, with Pastor Steve Clark officiating.
Private interment will take place at Adams Cemetery in Burr Oak.
Memorial donations may be directed to the family. Envelopes are available at the funeral home.
His obituary is also at www.hackmanfamilyfuneralhome.com, where personal messages of support may be left for the family.