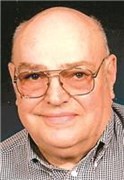 Jan Lowell Grossman, age 82, of Sturgis, passed away unexpectedly Tuesday evening April 3, 2018, at his home.
He was born July 5, 1935, in Sturgis, a son of the late Dale D. and Dorothy (Wilcox) Grossman.
Jan was a lifelong Sturgis area resident and a graduate of Centreville High School with the class of 1954.
On Dec. 27, 1958, he married Gloria Hagen at Trinity Lutheran Church in Sturgis by the Rev. Herbert Heidenreich.
Jan was a veteran of the U.S. Army earning the rank of Spec. 4.
His entire working life was in the auto mechanic industry. He retired from Sturgis Public Schools working as a mechanic in the bus garage, following seven years of dedicated employment, a job he truly loved. He also owned and operated Grossman Automotive for many years and from 1968-1976 owned and operated the Shell gas station in Centreville.
Jan had a love for drag racing and for more than 20 years served as the tech director at Martin Dragway in Martin. He was a past firefighter and chief of the Centreville Fire Department and served a four-year term on the Centreville school board. Jan enjoyed time working in his garage.
He is survived by his loving and dedicated wife of 59 years, Gloria; a son, Trent Grossman of Sturgis; a daughter: Kimberly Grossman of Sturgis; one grandson, Ryan Macey of Sturgis; two great-grandchildren, Carter and Grayson Macey of Sturgis; two sisters, Jill Berry of Homedale, Idaho, and Sue Scott of Port St. Joe, Fla.; and several nieces and nephews.
The family will receive friends from 2-4 p.m. and 6-8 p.m. Wednesday, April 11, at the Rosenberg Chapel of Hackman Family Funeral Homes, 807 E. Chicago Road, Sturgis. Cremation will follow visitation. A memorial service celebrating and honoring the life of Jan Grossman will be held at 11 a.m. Thursday, April 12, at Trinity Lutheran Church in Sturgis. The Rev. Calvin Kolzow will officiate. Private burial of the ashes will take place at a later date at Salem Cemetery in Sherman Township.
The family suggests those wishing to make a memorial donation in Mr. Grossman's memory consider American Diabetes Association , P.O. Box 11454, Alexandria, VA 22311.
His obituary is also at www.hackmanfamilyfuneralhomes.com, where personal messages of support may be left for the family.