Janice Carol Perry, age 82, of Burr Oak, passed away Friday afternoon, March 30, 2018, at Three Rivers Health.
She was born Oct. 25, 1935, in Vicksburg, a daughter of the late Leo and Alice Eureth (Mitchell) Gest.
Janice was a lifelong Burr Oak area resident and attended Burr Oak High School, where she was a cheerleader and member of the band.
On May 28, 1952 she married the love of her life, Richard Earl Perry in LaGrange. He died Feb. 20, 2013. Before his death, Janice gave never-ending care to Richard for the last seven years of his life.
She had been employed at several places, including Denton Mills in Centreville, and Clark gas station, the Sturgis Hospital laboratory and Borgert's Bakery, all in Sturgis. While working at the bakery, she often made sure day-old rolls and doughnuts would be given to area senior citizens.
Janice was happiest when she was able to do for others. A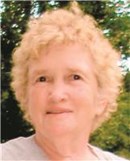 few of the many things she did included making door prizes for St. Joseph County Commission on Aging, knitting hats and scarves to donate to area elementary students and if someone needed something, she was always there to help. She enjoyed crafts, sewing and going for walks. Many will miss her cooking and baking, especially her divinity fudge. Trips to Las Vegas with Jackie Besser and Gayla were highlights in her life. Janice had interests and hobbies, but what she truly loved was time spent with her family, of which she was so very proud.
The family would like to acknowledge and give thanks to the following people for their never-ending care and concern for Janice's well-being: Todd and Amy Harris, Mason, Addie, Ashlynn, Rita, Annette and Stacy.
She is survived by a daughter, Carol Simonson of Burr Oak; three sons, David (Sherri) Perry of Three Rivers, John (Karla) Perry of Centreville and Robert (Teresa) Perry of Constantine; seven grandchildren, Adam (Emily), Stacy (Mark), Misty (Justin), Michelle (Jeremy), Samantha (Ryan), Zachery (Kasara) and Courtney; 14 great-grandchildren, Jaden, Cobi, Ethan, Baby B, Hudson, Lawton, Citori, Hunter, Gavin, Lucas, Khylur, Brynlee, Harper and Savanah Grace; and several nieces and nephews.
She was preceded in death by her parents; her husband; two sisters, Ailene Lampe and Pauline Fiebelkorn; and seven brothers, Joe, Tom, Howard, Dick, Harold, Edgar and Carl Gest.
In accordance with her wishes, cremation has taken place. There will be no visitation or services.
The Hackman Chapel of Hackman Family Funeral Homes, 114 S. Nottawa St., Sturgis, is entrusted with the arrangements.
The family suggests those wishing to make a memorial donation in Mrs. Perry's memory consider Burr Oak Fire Department, 208 W. Front St., Burr Oak, MI 49030.
Grief is the last act of love we have to give those we loved, where there is deep grief there was great love.
Her obituary is also at www.hackmanfamilyfuneralhomes.com, where personal messages of support may be left for the family.