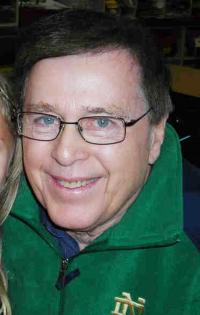 Larry Gail Pletcher, age 76, of Jones, died peacefully Thursday, April 5, 2018, in his residence in the comfort of his family's presence.
He was born Jan. 20, 1942 in South Bend, the younger of two children born to Gail and Ruth Pletcher.
Larry was devoted to his family and would do anything for his kids. He always loved his dogs, his cats, his land, and nature — anything outside. Larry cut firewood all of his life to provide heat for his family. He loved being on the water, and in his younger years swam across Birch Lake at least once a year at its widest point. Larry loved hunting and fishing, especially with his dad, and his family was always fascinated to hear the stories of where they went. In his later years he enjoyed going to tractor shows with his son and collecting die cast tractors. Larry and his daughter would pick his granddaughter up from school. They knew if he offered to get them something to eat it would be at only one place – Dairy Queen. He was an avid Notre Dame fan and told corny jokes.
Larry will be tremendously missed by family and friends. He is survived by his daughter, Jodi Pletcher of Jones; one son, Jason Pletcher of Jones; two granddaughters, Ashlee Hostetler and Avery Pletcher; one sister, Betty Goodin of Granger, Ind.; one niece and two nephews; and former wife and best friends, Cindy (Richard) Helfman.
Family and friends will gather Thursday, April 12, 2018 from 10 a.m. until 12 Noon in Connelly Chapel Wagner Family Funerals, 202 North Broadway Street, Cassopolis, when we will then process to Poe Cemetery in Newberg Township where Mr. Pletcher will be laid to rest.
The family prefers contributions be made in Larry's memory to American Diabetes Association, Grand Rapids Michigan Office, 1550 East Beltline, SE, Suite 250, Grand Rapids, Michigan 49506.
Arrangements have been entrusted to Connelly Chapel Wagner Family Funerals, Cassopolis. Please share a memory or a message online: wagnercares.com.