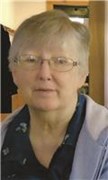 Margaret Dale Long, age 79, of Sturgis, passed away Saturday morning, March 31, 2018, at Sturgis Hospital.
She was born July 27, 1938, in LaGrange, daughter of the late Dale and Shirley (Johnson) Machan.
Margaret resided her whole life in the Sturgis and LaGrange County area and was a graduate of LaGrange High School with the class of 1956.
On June 16, 1957, she married Phillip Long in LaGrange, Ind.
Margaret was a homemaker and enjoyed arts and crafts, sewing, knitting, crocheting and sand art. She also enjoyed antiquing and had a passion for genealogy.
She is survived by her loving and dedicated husband of 60 years, Phillip; two daughters, Kathy (John) Douglas of Kalamazoo and Karen Almufti of Portage; one son, Lonnie (Gloria) Long of Marcellus; six grandchildren, Marriam, Kareema, Sarah, Daniel, Katie and Maria; three great-grandchildren, Jasim, Jalil and Jamal; one sister, Marge (Bob) Wright of Sturgis; one brother, Bobby (Kelly) Machan of Sturgis; and several nieces and nephews.
Service celebrating and honoring the life of Margaret Dale Long will be private. Interment will take place at Greenwood Cemetery in LaGrange, Indiana.
The Hackman Chapel of Hackman Family Funeral Homes, 114 S. Nottawa St., Sturgis, MI 49091, 269-651-2331 is entrusted with the arrangements.
The family suggests those wishing to make a memorial donation in Mrs. Long's memory consider the American Heart Association .
The obituary is also at www.hackmanfamilyfuneralhomes.com where personal messages of support may be left for the family.