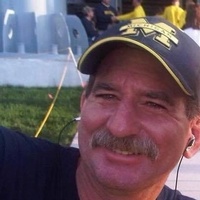 Michael "Mike" Deskovitz passed on to the Eternal Big House while doing what Mike loved most … watching U of M win during March Madness. Mike was born in Dearborn, Michigan to Michael and Adelaide Deskovitz, and is preceded in death by his Mother and is survived by many treasured family and friends.
Mike loved anything sports. He was an All-State running back, wrestler, and pitcher.He was an avid downhill skier, and loved boating, water skiing, snowmobiling, and golf. Mike's favorite time of year was football season, and he was a U of M season ticket holder for many years. We cannot forget to mention though his love for all Detroit Professional Sports Teams.
Mike graduated with an architectural degree, and moved to Cape Cod after college where he lived for 10 years. Mike decided he was better suited for outdoor work instead of being in the office, and he changed his career path to custom masonry work and residential remodeling for several clients throughout New England.
Mike loved the water and Michigan, so he moved back and lived on Gun Lake for several years. After an unfortunate accident, Mike moved to Elk Rapids because it was a friendly, walkable community. Mike loved Elk Rapids and enjoyed many summer nights watching the sunset and listening to the Tigers from his porch. Mike could be seen every day walking throughout the Village and loved talking to everyone.
A memorial service will be held Saturday, April 21, 2018 at 11 am at Eley Funeral Home in Centreville. Father Antony Rajesh, St. Clare's Catholic Church will officiate. Interment of cremains will follow at the Prairie River Cemetery in Centreville. Online messages may be left for the family at www.eleyfuneralhomes.com.