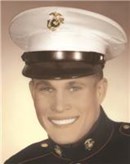 Oran R. Kinder, age 86, of Sturgis, passed away Friday evening, Dec. 29, 2017, at Thurston Woods Village in Sturgis.
He was born July 2, 1931, in Petersburg, Ind., a son of the late Alsie and Ethel (Sutton) Kinder.
Oran's early life was spent in Pike County, Ind., with his four sisters and five brothers.
Oran was very proud to have served his country during the Korean War for four years in the U.S. Marine Corps as a heavy truck driver and dispatcher.
He had been employed as a machine operator for Kirsch Company in Sturgis and as a saw operator for Kerr Iron in LaGrange, Ind.
Oran is survived by four children, Diane, Laurie, Keith and Jeffrey; a daughter-in-law, Lesa Kinder; and several grandchildren, great-grandchildren, nieces and nephews.
He was preceded in death by his parents; and two sons, Bobby and Michael.
In accordance with his wishes, cremation has taken place. A memorial graveside service and burial of the ashes will take place at 11:30 a.m. Saturday, April 7, 2018, at Oak Lawn Cemetery in Sturgis. The Rev. Michael Wicks of First Presbyterian Church in Sturgis will officiate. Full military honors will be conferred by Capt. John J. Kelley Post #1355 VFW and the U.S. Marine Corps Honor Guard.
Hackman Chapel of Hackman Family Funeral Homes, 114 S. Nottawa St., Sturgis, is entrusted with arrangements.
Memorial donations would be appreciated to American Legion Post #73, 500 W. Chicago Road, Sturgis, MI 49091; or VFW Post #1355 Honor Guard, 264 W. Fawn River Road, Sturgis, MI 49091.
His obituary is also at www.hackmanfamilyfuneralhomes.com, where personal messages of support may be left for the family.