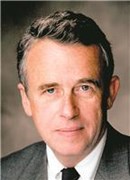 W. Quinn Kelly, age 86, of Klinger Lake, died on Monday, April 23, 2018, at Bronson Methodist Hospital in Kalamazoo.
He was born Oct. 7, 1931, in Evanston, Ill., a son of Walter D. and Ruth Mary (Quinn) Kelly.
Quinn was a bank trust officer who retired from Greenleaf Trust. He was preceded in death by a son, Michael Richard Kelly, in 2009; and a sister, Rosemary Gibbs. Surviving are his wife of 56 years, Dorothy (Bush) Kelly; two daughters, Katherine (Michael) Kitchen and Elizabeth (James) Lawson; a daughter-in-law, Dona Kelly; eight grandchildren, Conor Kelly, Joseph, Nicholas, Ryan, Quinn and Shane Kitchen, and Katherine and Timothy Lawson; a sister, Louise (Bernard) Martell; and many nieces and nephews.
Visit with family and friends from 5 to 7 p.m. Sunday, April 29, at Betzler Life Story Funeral Home, 6080 Stadium Drive, Kalamazoo. Mass of Christian Burial will be celebrated at 10 a.m. Monday, April 30, at St. Augustine Cathedral. Cremation will follow with burial in Constantine Township Cemetery. Please visit Quinn's personal web page at www.BetzlerFuneralHome.com, where you can read his story, archive a favorite memory or photo and sign his online guestbook before going to the funeral home. Memorial contributions may be made to ALS Association.