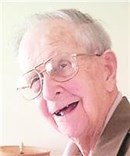 Robert Goettsche, age 96, of Sturgis, passed away peacefully Sunday evening, April 15, 2018, at Drew's Place in Coldwater.
He was born Dec. 29, 1921, in Detroit, a son of the late August and Beulah (Leatherberry) Goettsche.
Robert resided in Detroit until his enlistment in the U.S. Army. He served during World War II as a member of the 9th Reconnaissance Calvary Troop assigned to the 94th Infantry. He was a scout for General George S. Patton and saw action in Northern France, Ardennes, Rhineland and Central Europe, earning the rank of Tec Fifth Grade. Following his honorable discharge from the Army, he returned home, relocating to Leonidas to operate and take over the family farm of three generations. He also worked at Kirsch Company in Sturgis, retiring in 1981 following 24 years of dedicated employment.
Robert met the love of his life, Joyce Swearinger of Mendon, and the couple were married Nov. 11, 1949, in Mendon. They were together for 65 years until the time of her passing, Oct. 11, 2015.
He is survived by two daughters, Victoria Goettsche Wattles of Sturgis and Patricia (Ken) Goettsche DeValk of Louisville, Ky.; a granddaughter, Michelle (Heath) Wattles Persails of Portage; a grandson, Gregory DeValk of Louisville; two great-grandchildren, Carly (John) Gillihan Westhouser and Austin Gillihan Persails of Kalamazoo; and nieces and nephews.
In accordance with his wishes, cremation has taken place. A private graveside service and burial of the ashes will take place at Mendon Cemetery in Mendon. The Rev. Michael Wicks of First Presbyterian Church of Sturgis will officiate. Full military honors will be conferred by Capt. John J. Kelley Post #1355 VFW and the U.S. Army Honor Guard.
The Hackman Chapel of Hackman Family Funeral Homes, 1154 S. Nottawa St., Sturgis, is entrusted with the arrangements.
The family suggests those wishing to make a memorial donation in Mr. Goettsche's memory consider the veterans organization of one's choice.
His obituary is also at www.hackmanfamilyfuneralhomes.com, where personal messages of support may be left for the family.