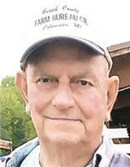 Stanley Eugene Holtz, age 81, of Burr Oak, passed away Thursday, April 12, 2018.
He was born March 23, 1937, in Sturgis, a son of the late Emerson "Mike" and Wilma (Gest) Holtz.
Stan resided in the Burr Oak and Sturgis area most of his life, and truly loved wintering in Florida for more than 14 years.
On March 20, 1971, he married Anna Bernice Young in Centreville.
Most of Stanley's working life was as a truck driver. He retired from Worden and Worden Trucking in Coldwater and for many years drove truck for Sturgis Iron and Metal in Sturgis.
He was a member of the Moose Lodge in Florida, AMVETS, Neuman-Wenzel Post #73 American Legion and a former member of Capt. John J. Kelley Post #1355 VFW. Stanley loved tinkering in his garage working on automobiles, motorcycles, truck and tractors, actually tinkering on nearly anything that had a motor, and if the motor was not loud before he started, you could always be guaranteed it would be loud when he finished. He enjoyed going to truck and tractor pulls and entertaining family and friends. He also enjoyed dancing and loved his dogs. Stanley had hobbies and interests, but what truly meant the most to him was his family. Just a few of the many things that will be forever remembered were the annual Memorial Day and Labor Day holidays at the home he built from the ground up in Baldwin, the Sunday family dinners and pool parties at the house, his big handshakes and his never-ending concern that you are routinely checking your oil.
He is survived by his loving wife of 47 years, Anna; his children, Rick (Karen) Hart, Rejean (Dan) Schragg. Cindy (Tom) Sauser, Robin (Jim) Modert, Linda (Brian) Personette, Richard (Kim) Hart, Tana (Jim) Yunker, Lisa Holtz and Shawn Lewis; 23 grandchildren; 37 great-grandchildren; a sister, Virginia Yoder; and several nieces and nephews.
He was preceded in death by his parents; a sister, Suzanna Gess; and a brother-in-law, Tom Yoder.
The family will receive friends from 3-7 p.m. Monday at the Rosenberg Chapel of Hackman Family Funeral Homes, 807 E. Chicago Road, Sturgis. Funeral services celebrating the life of Stanley E. Holtz will be held at 11 a.m. Tuesday at St. John's Lutheran Church in Burr Oak. The Rev. Kurt Kuhlman will officiate. A graveside committal will follow the service at Burr Oak Cemetery in Burr Oak.
The family suggests those wishing to make a memorial donation in Mr. Holtz's memory consider St. John's Lutheran Church, 218 W. Main St., Burr Oak, MI 49030; or Burr Oak Foundation.
His obituary is also at www.hackmanfamilyfuneralhomes.com, where personal messages of support may be left for the family.