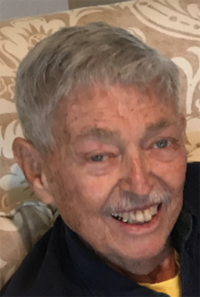 Wilfred Laverne "Will" McEnroe, Jr., age 81, passed away on Saturday, April 7, 2018, in Naples, FL surrounded by family. Born in Lyndonville, NY on February 21, 1937, he was the son of the late Wilfred L. and Marguerite (Toussaint) McEnroe. Will graduated from Lockport (NY) High School and attended the University of Buffalo where he received his engineering degree. He married Mary Noreta Clemens on August 9, 1958. They were married for 43 years until her death in 2002. Will and Noreta had two sons, the late Kenneth L. McEnroe and Timothy A. McEnroe who survives.
The family relocated to Three Rivers in 1966 when Will began working for the Johnson Corporation from which he retired in 1996. On August 28, 2004, Will married Robin Schmellmeyer.
Will spent much of his life living on Pleasant Lake near Three Rivers. A competitive swimmer in high school, he truly enjoyed the lake. He loved sailing, boating, fishing, golfing and NASCAR. Will was a member of Sauganash Country Club for many years. He especially enjoyed taking his sons and grandsons on an annual fishing trip to Kabinakagami Lake in Ontario, Canada. Will spent his last 20 winters in Naples and enjoyed his Pelican Lake community there.
Will was a 50 year member of the First Presbyterian Church of Three Rivers, as well as a lifetime member of BPOE Elks Lodge #1248. He was also a member of the Moose Club #474, Fraternal Order of Eagles and American Legion.
In addition to his wife, Robin, and son, Timothy, Will is survived by grandchildren, Kristen Miller (Buck), Trevor (Amanda), Alan and Hannah; great-grandchildren, Selah Noreta Miller, Avah Ilene Miller, and Theodore Kenneth McEnroe. He is also survived by daughters-in-law, Jan and Julie McEnroe.
Cremation has taken place. A memorial service will be held on Saturday, May 5th, 11:00AM at First Presbyterian Church in Three Rivers. Memorials may be directed to the Three Rivers Elks Club Roof Fund or the Ken McEnroe Memorial Scholarship thru the Three Rivers Area Community Foundation.