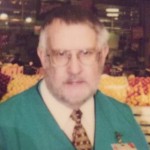 Alan Duane Otterson, age 66, of Albuquerque, New Mexico, passed away peacefully on May 15, 2018, after a difficult illness.
Alan was born in Vicksburg, on November 15, 1951.  He graduated from Vicksburg High School, attended Kalamazoo Valley Community College, and served in the US Air Force before marrying his true love, Cathy (Hinz) Otterson, on August 24, 1989.  They were married for 28 years.
Alan was an enthusiastic amateur photographer, composer and astronomer – a long time member of astronomy clubs in Michigan and New Mexico.  He interrupted his paid employment to care for his mother in her final years.  He was a loving son, husband and brother.
Alan is survived by his wife Cathy, his sister Joyce Otterson Levesque, his nephews Mark and Scott Beadles, and the rest of his extended family and friends.  He is preceded in death by his parents, George (Gene) Otterson and Ora Bea (Wintz) Otterson.
Many thanks to the University of New Mexico Medical ICU and Palliative Care Team for their kind attention in his last days.
No services are planned.  His memorial will be his favorite photographic subjects – wildflowers and the stars of the night sky.
Arrangements entrusted to:
Riverside Funeral Home of Albuquerque
225 San Mateo Blvd. NE
(505) 764-9663