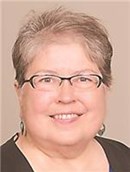 Barbara J. Eichorn, 70, of Goshen, died Wednesday, May 16, 2018.
She was born April 21, 1948, in Sturgis, the oldest of three children, to Edwin L. Eichorn and Elma (Yoder) Eichorn Stauffer, both of whom preceded her in death. Her stepfather for four years was Glenn E. Stauffer, also deceased.
On Jan. 1, 1998, she married Roy M. Bergey at East Goshen Mennonite Church.
He survives along with two stepdaughters, Krista Bergey of Atlanta and Lisa Bergey (Welby) Lehman and grandson, Grant Lehman, of Harrisonburg, Va.; two brothers, Galen (Carol) Eichorn and Lewis (Linda) Eichorn of Sturgis; eight nieces and nephews; and 18 grandnieces and nephews.
Barbara graduated from Centreville High School in 1966, and took some college at Kellogg Community College in Battle Creek and at Goshen College. Her career was as an administrative assistant at various faith-based and international organizations. She retired from Mennonite Board of Missions/Mennonite Mission Network in Elkhart in 2013, after more than 25 years. Since 2003, she assisted her husband in his business, Bergey Financial.
Barbara was a member of Berkey Avenue Mennonite Fellowship in Goshen.
Friends may call from 2 to 5 p.m. and 6 to 8 p.m. Friday, May 18, 2018, at Yoder-Culp Funeral Home in Goshen. A worship service celebrating her life and faith will begin at 11 a.m., with visitation from 10 to 10:40 a.m., on Saturday, May 19, at Berkey Avenue Mennonite Fellowship, 2509 Berkey Ave., Goshen, Ind. Burial will follow at 3:30 p.m. at Locust Grove Mennonite Church Cemetery in Burr Oak.