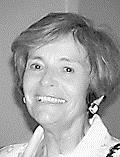 Barbara Jean Kirsch, age 83, a resident of Jupiter, Fla., died peacefully May 19, 2018.
She was born July 30, 1934, in Sturgis, to Arthur and Bernice Sukow Carls.
Barbara graduated from Sturgis High School and earned a degree in home economics from Michigan State University. On June 22, 1957, she married Charles Edward Kirsch.
Known for her indomitable spirit, Barbara will be remembered as a devoted wife, supportive mother, exuberant grandmother and vibrant friend. She was an art enthusiast and an avid golfer. Barb loved dogs, enjoyed travel and was always open to adventure. She was an active volunteer within the Sturgis, Harbor Springs and Jupiter communities. Her philanthropic service extended to numerous organizations, including Christ Child Society of Northern Michigan, Jupiter Medical Center Foundation and Lighthouse ArtCenter Gallery and School of Art. She was recognized by Lighthouse ArtCenter for originating D'Art for Art, the organization's annual signature event. Barbara was a member of Sigma Kappa Sorority, First Presbyterian Church of Harbor Springs, Birchwood Golf and Country Club and The Loxahatchee Club.
Barbara is survived by daughters Kathy Kirsch, Lauri Kirsch (Steve) and Amy Hamlin (Chris); stepchildren Martha Gillespie (Jack) and Guy Kirsch (Lynne); and grandchildren Jennifer (Robert) Harper, Becky (Nick) Schreiner, Matt McFarland (Kathryn), Erin (Joe) Snowden, Kelley McIllvaine (Andy), Amy (Tom) Blair, Katey Mulfinger, Lauren (Rob) Robinson, Ben Gezon and Aaron Hamlin.
She is preceded in death by her husband, Charles; and a son, Charlie.
Celebration of Life will be held Nov. 11 at Loxahatchee Club in Jupiter, Fla. In lieu of flowers, the family requests memorial donations may be given to the Lighthouse ArtCenter Gallery and School of Art in Tequesta, Fla. The family of Barbara thanks Trustbridge Hospice Sunflower Team. Condolences may be offered at www.aycocokfuneralhomejupiter.com.