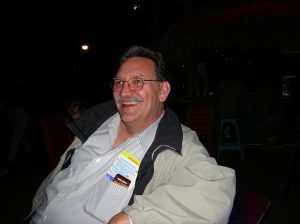 Bradley J. Conrad passed away in his home as he wished in Kalamazoo, early in the morning of Saturday, April 28, 2018. Brad was born on February 14, 1954 in Three Rivers, to Galen and Betty (Miller) Conrad. The cause of death was Congestive Heart failure and Pulmonary Disease. He also suffered from Lung Cancer. Brad was a graduate of Mendon High School as well as the Northwood Institute and Nazareth College of Kalamazoo. Following college, Brad worked at Crocker Ltd in Three Rivers as the financial controller and HR manager until his medical retirement in 2004. Brad met his partner Mark McCroskey in 1991 and they were married in Norwichtown, Connecticut on May 28, 2016. Brad & Mark moved to Ann Arbor for Mark's job with Pfizer in 2003 and then on to Connecticut in 2007 where Mark retired from Pfizer in August 2017. They returned to Kalamazoo in October 2017. They traveled and saw the world together during their wonderful years together.
He is survived by his husband of 27 years, bothers Lamar (Jody) Conrad of Three Rivers, Lance (Joan) Conrad of Mendon, nephews Justin and Collin Conrad, and a niece Shannon Conrad. He is also survived by his beloved rescue dog, Bella, who gave him much joy and comfort during his last months. He was preceded in death by his parents and a nephew Jeremy Conrad.
Brad has been cremated and there will be a memorial gathering from 2 to 4 PM Saturday, May 12, 2018 at the Greenhills Apartments Clubhouse, 200 Lake Forest Blvd., Kalamazoo. The Eickhoff Funeral Home of Mendon is serving the family, and online condolences may be expressed at www.eickhofffuneralhome.com. The family would like to thank Hospice of SW Michigan for their help and support for Brad's final days. Memorials can be made to Hospice of SW Michigan or your local food pantry. It was Brad's goal that nobody should go hungry and he supported the food banks for many years.
"It is not that you loved but whether you were loved".  Brad was truly loved and will be with us forever.