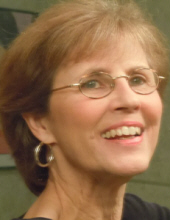 Carolyn Sue Masnari, age 74, of Bloomfield Hills, passed away Sunday, May 20, 2018, at William Beaumont Hospital, Royal Oak. She was born in Yale, June 26,1943, the daughter of the late Ray and Ula (Steinhoff) Elston. Carolyn grew up in a wonderful supportive community on her family farm surrounded by a loving extended family. She was a Yale High School drum majorette and graduate. Her love for horses began with many 4-H competitions then continued throughout her life.
Her marriage to her former husband, Raymond Masnari, was January 8, 1966, at Sacred Heart Catholic Church, Brown City. She was an avid reader and had worked at the Three Rivers Carnegie Library for several years. Carolyn continued her education at Western Michigan University where she earned her associates degree and later, in 1988, her Bachelor's Degree of Science in art, with a concentration on painting.
Painting was a lifetime passion of Carolyn. She had won many art prizes for her talents, had taught art classes at Carnegie Center in Three Rivers, The Flint Institute of Art, and the Art Experience in Pontiac and was director of International Fine Arts and South Street Gallery, Kalamazoo. Carolyn had painted a variety of subjects and enjoyed exploring different mediums.
Carolyn enjoyed traveling including her trips to Florida and world-wide locations. She viewed the family cottage, in Lexington Heights, as a second home and spent many joyous times on Lake Huron. Having grown up in a faith filled family, her spiritual life began at the Melvin Methodist Church. She continued her journey by attending Unity Church of Pontiac and Unity Church of Lake Orion where she was an active member and delivered messages to the congregation through the years. Carolyn loved spending time with her family and friends, whom she cared about deeply.
Surviving are two daughters and sons-in-law, Joanna and Russ Cannon of Oxford and Jill and Michael Martin of North Carolina; three grandchildren, Gloria, Joshua and Ryan; a brother, David (Millie) Elston of West Bloomfield; sister-in-law, Judy Masnari of North Carolina; nieces and nephews, Elizabeth, Christopher, John, Steve, Dave, Mike, Jeff, and Maria, as well as many friends.
The family honors the memory of Carolyn and invite you to visit and share memories Friday, May 25, 2018, 2:00 to 8:00 p.m. at Kaatz Funeral Directors, Yale. Funeral services will be 11:00 a.m. Saturday with 10:00 a.m. visiting. Rev. Lisa Clark, pastor of Capac United Methodist Church, will officiate. Inurnment will be in Elmwood Cemetery, Yale.
Memorials are suggested to the Unity Church of Pontiac, the Melvin United Methodist Church, or the America Cancer Society.