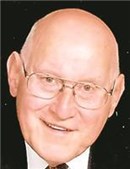 Richard D. Bolley, age 91, of Sturgis, went to be with his Lord and Savior Thursday morning, May 10, 2018, at his home, while surrounded by his loving family.
He was born May 3, 1927, in Mongo, Ind., a son of the late Orcie and Bessie (VanZile) Bolley.
Dick resided in the Sturgis area since 1932, was a graduate of Sturgis High School with the class of 1945 and a member of the state championship basketball team.
On June 30, 1972, he married Lorraine Hazard in Sturgis.
Dick first retired from Formed Tubes Company in Sturgis following 30 years of dedicated employment. He retired a second time in January 1990 from Rood Industries in Sturgis after 10 years of employment.
He was an active faithful member of Sturgis Foresquare His House Church.
Dick enjoyed working in his yard, his pets and feeding the birds. He was an avid sports fan and a true fan of the Notre Dame Fighting Irish. Dick had hobbies and involvements, but what he truly loved and what made him happiest in life was time spent with his family especially his grandchildren and great-grandchildren. There were few school activities or sporting events that he ever missed.
He is survived by the love of his life and dedicated wife of nearly 46 years, Lorraine; two daughters, Rebecca (David) Fish of Sturgis and Linda (Doug) Cain of Westchester, Ohio; three grandsons, Brandon (his fiancée Katie Keller) Fish, Andrew Fish and Alex (Emily) Cain; eight great-grandchildren, Nicholas, Alison, Eva, Sadie, Breanna, Jase, Jack and Audi; and several cousins.
He was preceded in death by his parents; and a sister, Catherine Emsing.
The family will receive friends from 2 to 4 p.m. and 6 to 8 p.m. Monday at Sturgis Foresquare His House Church, 410 S. Clay St., Sturgis. Funeral services celebrating and honoring the life of Richard D. Bolley will be held at 11 a.m. Tuesday at the church. Pastor Doug Carr will officiate. A graveside committal will follow the service at Oak Lawn Cemetery in Sturgis.
The Hackman Chapel of Hackman Family Funeral Homes, 114 S. Nottawa St., Sturgis, is entrusted with the arrangements.
The family suggests those wishing to make a memorial donation in Dick's memory consider Sturgis Foresquare Church, 410 S. Clay St., Sturgis, MI 49091; or Hospice of Sturgis, P.O. Box 126, Sturgis, MI 49091.
His obituary is also at www.hackmanfamilyfuneralhomes.com, where personal messages of support may be left for the family.