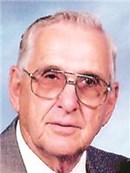 Richard A. Hopkins, age 98, of Sturgis, passed away Monday afternoon, May 21, 2018, at Three Rivers Health, with his children at his side.
He was born May 19, 1920, in Sturgis, a son of the late Arthur A. and Florence Abbey) Hopkins.
Dick resided most of his life in Sturgis and was a graduate of Sturgis High School with the class of 1938.
On July 9, 1941, he married Irene I. Jellison in St. Louis. She died Sept. 22, 2012.
In 1981, he retired from Kirsch Company in Sturgis following 44 years of dedicated employment.
Dick was proud to have served his country during World War II in the U.S. Army Air Force from 1940-1950, earning the rank of captain. He served in the European Theater, earning one Bronze Battle Star. Dick was a highly talented and skilled glider pilot. While flying with the Canadian Air Force in Operation Muskox, he was the first pilot to land a glider and be picked up above the Arctic Circle. When he was stationed in Alaska serving with the 10th Air Sea Rescue and under extreme arctic conditions, he rescued six men from a downed aircraft.
Dick was a lifetime active member of First Baptist Church in Sturgis, where he served on many boards and committees. He was a life member of the B.P.O. Elks #1381 in Sturgis and a life member and past commander of White Pigeon American Legion post #138. He enjoyed fishing, woodworking, playing golf and his many winters at his home in Smyrna Beach, Fla.
He is survived by a son, Gregory (Susan) Hopkins of Sturgis; a daughter, Sandra K. (Craig) Brueck of Centreville; two grandchildren, Linsey (Jerome) Wolff of Sturgis and Ryan (Samantha) Brueck of Centreville; two great-grandchildren, Ella Wolff, Gavin Brueck, Evelyn Irene Wolff and Lucas Brueck; special friends Phyllis Hamilton of Coloma, Calif., and Frank Bigelow of Denver; and several nieces and nephews.
He was preceded in death by his parents; his wife; a sister, Helena L. Howard; and a brother, Paul D. Hopkins.
In accordance with his wishes, cremation has taken place. A memorial graveside service and burial of the ashes will take place at 11 a.m. Saturday at Oak Lawn Cemetery in Sturgis. The Rev. James Pearson of First Baptist Church of Sturgis will officiate. Full military honors will be conferred by U.S. Air Force Honor Guard and White Pigeon American Legion Post #138 Honor Guard.
The Hackman Chapel of Hackman Family Funeral Homes, 114 S. Nottawa St., Sturgis, is entrusted with the arrangements.
The family suggests those wishing to make a memorial donation in Mr. Hopkins' memory consider First Baptist Church, 1050 Fawn River Road, Sturgis, MI 49091.
His obituary is also at www.hackmanfamilyfuneralhomes.com, where personal messages of support may be left for the family.