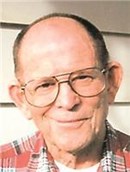 Dillon D. Fritz, age 95, a lifelong resident of Sturgis, passed away May 11, 2018, at Doctor's Retreat Hospital in Richmond, Va.
He was born Feb. 18, 1923, in Sturgis, a son of the late Clarence and Edith (Kielkoff) Fritz.
Dillon graduated from Sturgis High School with the class of 1942 and entered the U.S. Navy during World War II in December 1942 and served until January 1946, earning the rank of motor machinist's mate 2nd class.
On Dec. 21, 1946, he married Myrtle P. Schuster in Goshen, Ind. She preceded him in death March 31, 2008, after 61 years of marriage.
Dillon went to trade school in Chicago for refrigeration and air conditioning and owned and operated Dillon Fritz Commercial Refrigeration Sales and Service, retiring in 1979.
He was a member of First United Methodist Church, former member of Sturgis Elks Lodge, charter member of Wingdingers Model Aircraft Club, an Eagle Scout and served on the St. Joseph County Parks Board.
Dillon liked to hunt and fish. After retirement, he and his wife, Myrtle, bought a class A motor home and they liked to camp and take trips all over the country.
Surviving are a daughter, Kathleen (Richard) Martin of Powhatan, Va.; a granddaughter, Marisa (Steve) Cherry of Midlothian, Va.; three great-grandchildren, Ava Kate, Jackson and Lauren Cherry; and a sister, Mary Ann Glance of Texas.
He was preceded in death by his parents; and his wife, Myrtle.
According to his wishes, cremation has taken place. A graveside service will be held at 11 a.m. Friday, June 22, 2018, at Oak Lawn Cemetery, with full military honors by the U.S Navy Honor Guard and Capt. John J. Kelley V.F.W. post #1355.
Memorial donations in his memory may be directed to First United Methodist Church or Animal Rescue Fund. Envelopes are available at the Rosenberg Chapel of Hackman Family Funeral Homes, 807 E. Chicago Road, Sturgis.