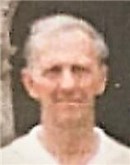 Donald Eugene Roy, age 89, a lifelong Sturgis resident, passed away May 29, 2018 at Fairview Nursing & Rehabilitation Community in Centreville.
He was born Sept. 30, 1928, in Sturgis.
Donald graduated from Sturgis High School with the class of 1947. He then joined the U.S. Air Force and served during the Korean War, earning the rank of T/Sgt.
In 1957, he married Donnabell Heyward. She preceded him in death Feb. 16, 2014.
Donald was employed all his life for Dennis Kane Distributing, which became C.A. Murphy Oil Company.
Surviving are four children, Douglas (Sherri) Roy of Constantine, Debbie Burke of Chicago, Dena Roy of Mississippi and Diana (Jody) Beeler of Cooper, Texas; seven grandchildren; and six great-grandchildren.
He was preceded in death by his parents; his wife; and a brother.
The family will receive friends and relatives from 1:30 to 2:30 p.m. Saturday at the Hackman Chapel of Hackman Family Funeral Homes, 114 S. Nottawa St., Sturgis.
Services celebrating the life of Donald E. Roy will be held at 2:30 p.m. Saturday, immediately following visitation, at the funeral home, with Deacon Larry Kasuboski, officiating. Interment will follow in Oak Lawn Cemetery.