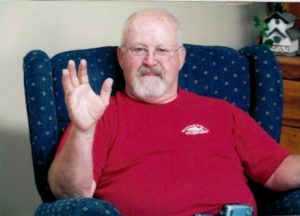 Duane Clifford Gross, age 74, of Centreville, went to be with the Lord in his eternal home Wednesday evening, ​May 9, 2008, surrounded by the love of his wife and family.
Duane was born in Centreville at Fairview Hospital on November 30th, 1943 to Clifford and Winifred (Caseman) Gross. He was raised in Centreville and graduated from Centreville High School in 1963; marrying his high school sweetheart Judy Elaine (Snook) on June 22, 1963.
In the summer of 1979, shortly after being prompted by the Lord through the words of Isaiah 6:8, Duane and Judy packed up their family and headed to North Carolina where they joined the Wycliffe Bible Translators Christian Mission Organization. Here Duane worked in construction at the Jungle Aviation and Radio Service Center and he and Judy made countless friends and memories during their time serving the Lord.
In the summer of 1981 they returned home to Centreville, and Duane took a job with the St. Joseph County Road Commission where he served his county up until his retirement in 2010.
Duane was a loving and courageous man, steadfast in his faith, impacting every life he touched. He was a good husband, a great dad and an even better grandpa. He will surely be missed by all who knew him.
Duane was greatly loved by his family. His wife; Judy Gross. His three children; Darci (Douglas) Kirby, Dana (Michael) Sherman and Darren Gross. His grandchildren; Candice (Jacob) Mayer, Christian (Stephanie) Alexander, Narissa (Leland) Ross, Alesha Kirby, Darian Kirby and Fiancé Christen Kahila, Harlie Sherman, Dakota Conley and Ethan Gross. His great grandchildren; Alden, Ashton Tyler, Anabelle, Ashton Lee and Alijah Mayer and Leland Ross III. And his siblings Donald (Judith) Gross, Mary Lou (Wayne) Kline and Joanna (Sam) Carper.
Duane is preceded in death by his parents, brother Robert Gross and sister-in-law Doris Gross.
"Someday you will read or hear that Billy Graham is dead. Don't you believe a word of it. I shall be more alive than I am now. I will just have changed my address. I will have gone into the presence of God." – Billy Graham
Relatives and friends will be received Saturday, May 12 from 3​ to ​7​pm​ at Eley Funeral Home, Centreville. Religious services will be held on Monday, May 14 at 2 PM at St. Paul's Lutheran Church, Centreville, with Pastor David Grimm officiating. Interment will be in Prairie River Cemetery. In lieu of flowers, donations can be made to Mark 10:14 Early Childhood Center or St. Paul's Lutheran Church, Centreville. The family would like to extend a special thanks to Sturgis Hospice for their loving care and support. Online condolences can be left for the family at www.eleyfuneralhomes.com.