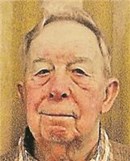 Elwyn George Dodgson, age 89, of Leonidas Township, passed away Sunday, May 13, 2018, at his home.
A celebration of Elwyn's life will be held at 11 a.m. Thursday, May 17, 2018, at Factoryville Bible Church, with Pastor Fred Goebert officiating. Visitation will take place from 5 to 8 p.m. Wednesday, May 16, 2018, at the church, and from 10 to 11 a.m. Thursday prior to the funeral. Interment will be at 1:30 p.m. Thursday, May 17, 2018, at Vicksburg Cemetery in Schoolcraft Township.
Elwyn was born Feb. 15, 1929, in Schoolcraft Township, to John and Sarah (Belle) Dodgson. He graduated from Athens High School in 1948. On Jan. 9, 1960, he married Doris Ann Brockway in Galien. The couple was married for 55 years, until her death in 2015. Elwyn farmed and raised cows and rabbits most of his life. He also worked in shipping and receiving at the VA Hospital in Battle Creek until his retirement in 1974. He attended Factoryville Bible Church for more than 50 years and was a member of United Commercial Travelers #253.
A good husband and father, Elwyn never complained. He enjoyed hunting, fishing and riding motorcycles when he was a younger man. He loved to talk and missed Doris a great deal after she passed away.
Elwyn is survived by his children, Jerry (Dawn) Dodgson of Leonidas and his daughter, Julie (John) Cornett of Fort Wayne; and a grandson, Cody Burdick of Leonidas. In addition to his wife, Elwyn was preceded in death by his children, Susan, Andy and Mary Dodgson.
Memorial contributions may be directed to Factoryville Christian School or the family. Please visit www.lighthousefuneral.com to share memories, pictures and videos with the family.