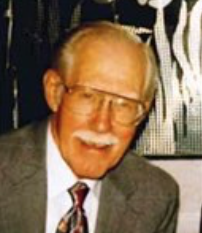 John Richard Mann, Jr. "Jack", age 93, of Sturgis, and Crystal River, FL, passed away March 20, 2018 at Oak Hill Hospital in Brooksville, FL. Jack was born on September 8, 1924 in Akron, OH to John Richard Mann, Sr. and Edith Hutchins Mann. He graduated from Garfield High School in 1943.
He entered the armed service in 1943 and served until 1946. After his service, Mr. Mann graduated from Eastern Michigan University in 1950 with a degree in Business Management and obtained his master's degree in business from Eastern Michigan in 1970.
Jack married Francis Mae Legazze in February 1944 and had four children. He was later divorced. He met and married Alice Kuhn Mann in 1974, who survives him. Jack was a winter resident of Citrus County for 25 years after retiring.
He was a member of the Lions Club and he attended the Protestant Church. Jack was a veteran of the World War II. He was a retired professor of Economics and Business from Glen Oaks Community College in Centreville. Jack also served as director of the Center for Business Services at the College. For many years Jack was a member of the 7 Rivers Golf and Country Club in Crystal River, FL.
In addition to his parents, Jack was preceded in death by his brother Malcom Mann and his sister Lavonne Wiley.
Survived by his wife, Alice Mann; four children, John R. Mann, III, Deborah Marks, Carole Cheves, Gail Buning; four stepchildren, John Furey, Caroline Ziemianski, Dave Furey and Scott Furey; one brother, David Mann; nineteen Grandchildren; five Great Grandchildren.
Cremation has taken place. Memorial services will take place on May 21 at 11:30AM at Ft. Custer National Cemetery in Augusta, MI.