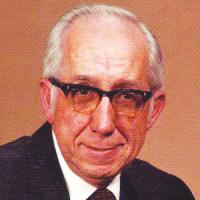 James S. McDaniel, age 87, of Seymour, IN died at 8:55 p.m. May 19, 2018, at Schneck Medical Center in Seymour.
James was born July 4, 1930, in Columbus, IN the son of John and Lavera Thornburg McDaniel.  He married Virginia M. Proffitt June 18, 1955, and she preceded him in death May 18, 2016.
He retired as a letter carrier from the USPS in 1995, and then lived in Three Rivers, before returning to Columbus.
James was a long-time member of East Columbus United Methodist Church.
The funeral will be conducted at 1p.m. Thursday, May 24, 2018, at Jewell-Rittman Family Funeral Home with Pastor Charles Aigner officiating. Calling will be from 4 to 8 p.m. Wednesday at the funeral home and one hour prior to the service Thursday.  Burial will be at Garland Brook Cemetery.
Memorials may be made to the East Columbus United Methodist Church.
Survivors include his brothers, Jerry (Jan) Morrison of Seymour, and Steve (Catherine) McDaniel and John (Belinda) McDaniel, both of Columbus; his sisters, Patricia Morrison of Seymour and Sarah Nichols of Midwest City, Oklahoma; and several nieces and nephews.
He was preceded in death by his parents, John McDaniel and Lavera Morrison; wife, Virginia; sister, Emma Gross; and a brother, Darrell McDaniel.