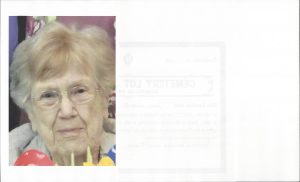 Jane L. Roberts, age 94, passed away Wednesday, May 16th, 2018 at Heartland Healthcare. Jane was born November 8, 1923 in Niles, the daughter of Grace and Earl Burge.
Jane was married to Jack Roberts, they had three children- Judith Kay, Nancy Jo, and Terry Lee. They moved to Marcellus from Three Rivers in 1951, where she resided until her death. Jane had two sisters: Dorothy Blume and Evelyn Shaul.
Jane was a member of the Marcellus United Methodist Church as well as many organizations and social clubs. Jane worked many years in the Cozy Cupboard Restaurant and later retired from Marcellus Community Schools with 17 years of service.
She was preceded in death by her sister: Dorothy Blume, daughters: Judith Kay and Nancy Lynn, and great-grandson: Charles Roberts.
She is survived by her sister: Evelyn Shaul, son: Terry (Cathy) Roberts, son-in-law: Al Lynn, grandchildren: Cyndi (Dave) Tellin, Rachael Fidler, Ryan (Jody) Roberts, Laura (Rodney) Roberts, great grandchildren:  Kyle Motycka, Makayla Roberts, Jonah Fidler, Felicity Fidler, and Molly Roberts, and great great grandchild: Lucious Lynn Fidler.
Funeral arrangements made by Mater-Ralston Funeral Home of Marcellus with visitation on Monday, May 21, 2018 from 6 to 8 PM and  funeral Tuesday May 22, 2018 at 11 AM at the funeral home. Internment will be at Marcellus Township Cemetery. Memorials may be directed to Marcellus United Methodist Church or Marcellus Fire and Ambulance. Online condolences may be left at www.materralstonfuneralhome. com