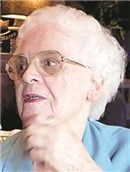 Janette Pauline Fisk, age 86, of Sturgis, passed away Thursday morning, May 10, 2018, at Sturgis Hospital.
She was born June 7, 1931, in Lansing, a daughter of the late Merle and Kathleen (Leonard) Swan.
Mrs. Fisk resided in Sturgis since 1961, coming from the Lansing area.
On July 2, 1949, she married Darrell D. Fisk in Dansville. He died July 7, 2017.
Janette was employed by Sturgis Public Schools for many years and she was a dedicated homemaker.
She was a member of First Baptist Church of Sturgis and enjoyed reading and vacationing with family. She especially loved time spent with her grandchildren and great-grandchildren.
She is survived by a daughter, Cynthia (Jeffery) Haack of White Pigeon; two sons, Mark (Kathy) Fisk of Ypsilanti and Darrell Dean Fisk II of Sturgis; six grandchildren, Adam (Amber) Fisk, David (Kim) McKee, Victoria (Ali) Alugaili, Anthony Fisk, Craig (Megan) Grabe and Nathan (Crystal) Grabe; several great-grandchildren, nieces and nephews; and very special friend Roberta Swift of Phoenix.
She was preceded in death by her parents; a son, Merle Fisk; special grandson Jesse Haack; and very special friend Kenneth Swift.
The family will receive friends from 11:30 a.m. to 1:30 p.m. Monday at Hackman Chapel of Hackman Family Funeral Homes, 114 S. Nottawa St. Sturgis. A graveside service and burial will take place at 2 p.m. Monday at Oak Lawn Cemetery in Sturgis. The Rev. James Pearson of First Baptist Church in Sturgis will officiate.
The family suggests those wishing to make a memorial donation in Mrs. Fisk's memory consider the American Diabetes Association , P.O. Box 11454, Alexandria, VA 23311.
Her obituary is also at www.hackmanfamilyfuneralhomes.com, where personal messages of support may be left for the family.