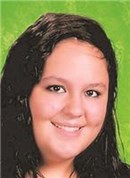 Kassidy Ann Robinette, age 19, of Leonidas, passed away unexpectedly Saturday, May 26, 2018, from injuries sustained in an automobile accident.
Kassidy graduated from Colon High School with the class of 2017.
She is survived by her parents, Eric Robinette and Christina Cole of Leonidas; a younger brother, Eric Robinette Jr.; and grandmother Deborah Cole.
Kassidy was proceeded in death by her grandmother Mary Robinette.
A short visitation is planned for 10 a.m. Friday, June 1, 2018, at Colon Baptist Church. A funeral service will follow at noon. Following the funeral service, burial will take place at Lakeside Cemetery in Colon. A luncheon will follow at the Baptist Church fellowship hall and guests are asked to bring a dish to pass.
In lieu of flowers, a memorial donation may be made to Kassidy's family.
The family was assisted by Schipper Funeral Home in Colon.