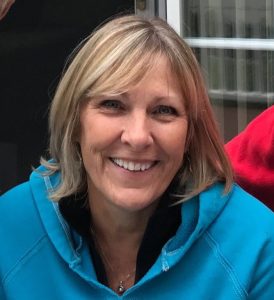 Mrs. Patricia Ann "Patty" Lakey-Frye, age 66, of Three Rivers, passed away tragically on Saturday, May 5, 2018. She was born on March 13, 1952 in Three Rivers, the beautiful daughter of Richard and Margaret (Luck) Lakey.
Patty had been a lifelong resident of Three Rivers. She retired from Three Rivers Hospital after 20 years of service where Patty gained many friendships and helped countless families. Patty was a volunteer for many organizations, most recently St. Joseph County Victims Services and the Fabius Park Fire Department. Patty was an organ donor and to this day she continues to help those in need. She truly loved her family, was a devoted grandmother, and the most loyal of friends.
Patty also enjoyed her early morning walks with her handsome boy Blu, and times spent with her many friends. She was an avid and excellent gardener, not only with flowers but also with her vegetable garden. Patty loved her grandchildren immensely and would frequently travel to Wisconsin to see Annason and Natalie and babysit for her youngest granddaughter Remi. Most of all, she loved spending her time with her husband Mike, going to concerts, traveling, and riding their motorcycles
Patricia was preceded in death by her grandparents, and her father, Richard Lakey.
She leaves to cherish her loving memory, her mother, Margaret Lakey, of Three Rivers; her beloved husband, Michael Frye, whom she married on March 5, 2014; three children, Becky (Larry) Wissell, Dallas (Mary) Jones, and Kyle (Emily) Jones, two step-children Caitlyn Calkins and Brandon Frye, one sister, Barb (Jerry) Castner; and one brother, David Lakey; five adored grandchildren, Annason, Natalie, Remi, Addison, and Aurora. Countless nieces and nephews and many cherished friends and colleagues.
The family will receive friends from 2 to 4 p.m. and 6 to 8 p.m. on Monday, May 14, 2018 at the Hohner Funeral Home, Three Rivers.
Funeral Services will be held at 1:00 p.m. on Tuesday, May 15, 2018 at Riverside Church, 207 E. Michigan Avenue in Three Rivers, with Pastor Robert Anderson officiating.
Memorials may be donated to the family of Patricia Ann Lakey c/o Becky Wissell. Envelopes will be available at the Hohner Funeral Home or church. Online condolences may be shared at www.hohnerfh.com.