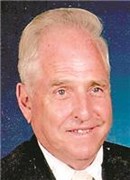 Roger J. Krugh, age 86, of Shipshewana, died Thursday, May 3, 2018, at his home.
Mr. Krugh was born Nov. 16, 1931, in LaGrange County, to Emmett R. and Grayce (Maone) Krugh.
Living his lifetime in LaGrange County, he worked as a machinist at Ross Labs in Sturgis from 1955 until his retirement in 1990. Roger was a member of LaGrange First United Methodist Church.
Mr. Krugh was an avid fisherman and outdoorsman. He enjoyed bowling and his time spent on his bowling leagues. His favorite times, though, were moments he spent with his family.
On Dec. 24, 1966, he married Lillian E. Hinkley in LaGrange. Mrs. Krugh survives in Shipshewana.
Also surviving are his daughter and her fiancé, Lynette Krugh and Robert Phillips of Shipshewana; a granddaughter and her husband, Kara and Steven Mathews of Sturgis; a grandson, Steven Merkle of Shipshewana; a great-granddaughter, Ava Mathews; and several nieces and nephews.
Mr. Krugh was preceded in death by his parents; two sisters, Agnes Randolph and Joyce Greenawalt; and two brothers, Stanley and Terry Krugh.
Funeral services will take place at 10 a.m. Wednesday, May 9, 2018, at LaGrange First United Methodist Church, 209 W. Spring St., LaGrange, Ind. The Revs. Andrea and Chris Lantz will officiate. Burial will follow at Greenwood Cemetery in LaGrange.
Visitation will take place from 3 to 7 p.m. Tuesday, May 8, 2018, at Frurip-May Funeral Home, 309 W. Michigan St., LaGrange.
Memorials may be made either to LaGrange First United Methodist Church or Heart to Heart Hospice.
Condolences may be left for the family at www.fruripmayfuneralhome.com.