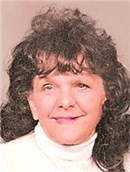 Shirley Mae Adams, age 80, of Sturgis, passed away early Saturday morning, May 5, 2018, at her home.
She was born Sept. 8, 1937, in Sturgis, a daughter of the late Ivan and Grace (McGary) Notestine.
Shirley was a lifelong Sturgis resident.
On April 25, 1953, she married Ralph Adams in LaGrange, Ind.
She worked as a waitress for many years at Washington Café, later renamed Corner Café, and also at Patterson's Supper Club, both in Sturgis.
Shirley was a member of First Baptist Church in Sturgis. She enjoyed bowling, camping, especially with her grandchildren, playing bingo and Daily 3 and Daily 4 lottery games. Shirley had hobbies and interests, but what made her truly the happiest was time spent with her family.
She is survived by her loving and dedicated husband of 65 years, Ralph; two sons, Douglas Adams of Sturgis and Tracy Adams of Middlebury, Ind.; 13 grandchildren;
30 great-grandchildren; a sister, Rosemary Wright of Paw Paw; and many nieces and nephews.
She was preceded in death by her parents; three sons, Charles, Duane and Bruce Adams; a great-granddaughter; two brothers, Richard Notestine and Bill Notestine; and a sister, Betty Grahams.
In accordance with her wishes, cremation has taken place. The family will receive friends from noon to 1 p.m. Saturday, May 19, 2018, at the Rosenberg Chapel of Hackman Family Funeral Homes, 807 E. Chicago Road, Sturgis. A memorial service celebrating the life of Shirley Adams begins at 1 p.m. at the funeral home. The Rev. Rodger Moyer of Sturgis Evangelical Church will officiate.
The family suggests those wishing to make a memorial donation in Mrs. Adams' memory consider Hospice of Sturgis, P.O. Box 126, Sturgis, MI 49091; Sturgis Evangelical Church, 28201 E. Fawn River Road, Sturgis, MI 49091; or the charity of one's own choice.
Her obituary is also at www.hackmanfamilyfuneralhomes.com, where personal messages of support may be left for the family.