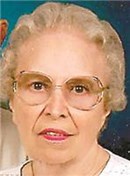 Thelma May Morse, age 95, of Sturgis, passed away Friday morning, May 11, 2018, at her home, surrounded by her family.
She was born Oct. 27, 1922, in Grand Rapids, a daughter of the late George and Neva (Turner) Ducavas.
Thelma grew up in Grand Rapids and that is where she met her future husband. On July 18, 1942, she married George Morse, and they had 69 wonderful years together until his passing in 2011.
In 1992, when they retired, they decided to move to Sturgis to be close to their son and his family.
Thelma was a member of St. John's Lutheran Church in Sturgis.
She and her husband enjoyed their winters in Ellenton, Fla., and Thelma especially liked playing cards with friends.
Every summer, she would make dozens of zucchini muffins, which she loved to give away to family and friends. The family will also miss her special recipe for BBQ spare ribs with mashed potatoes. She always took very good care of her family.
Thelma is survived by a son, George F. (Diane) Morse of Sturgis; grandchildren Kevin (Michelle) Morse of Lake Orion and Kristi (David) Smith of Sturgis; great-grandchildren Gavin Morse, Nicholas, Grady and Delaney Smith; and several nieces and nephews.
She was preceded in death by her parents, four sisters and a baby brother.
The family will receive friends from 1 to 2 p.m.Friday at St. John's Lutheran Church, 1108 E. Lafayette St., Sturgis. Funeral services celebrating the life of Thelma May Morse will begin at 2 p.m. Friday at the church. The Rev. Darin Warnacke will officiate. A chapel committal service will be held at 3 p.m. Monday, May 21, at Chapel Hill Memorial Gardens, 2894 Patterson Road SE, Grand Rapids.
In lieu of flowers, the family suggests those wishing to make a memorial donation in Thelma's memory consider St. John's Lutheran Church, 1108 E. Lafayette St., Sturgis, MI 49091; or Hospice of Sturgis, P.O. Box 126, Sturgis, MI 49091.
The Hackman Chapel of Hackman Family Funeral Homes, 114 S. Nottawa St., Sturgis, is entrusted with the arrangements.
Her obituary is also at www.hackmanfamilyfuneralhomes.com, where personal messages of support may be left for the family.